Oruma's aim is to work towards social harmony and community empowerment. Programs like Oruma ''Friendly Forum'' and 'Oruma ''New Springs'' seeks to work with local community and society at large to bring social harmony through dialog and poverty alleviation.
Oruma New Springs
Empowerment enables poor and marginalised people to break out of traps of poverty, inequality and play greater political, economic and cultural roles in society. Oruma identified in two colonies in Thiruvilangadu, Harishchandrapuram panchayath in Thiruvallur district that were severely affected during the 2015 floods. Following requests from the community people, Oruma engaged with this community who are predominantly engaged as knife sharpeners seeking work in Chennai city and other towns.  Oruma volunteers conducted survey on their economic and education background of around 310 families in this community.
It was found that they were lacking in two vital development parameter- Housing and Education. Hence, Oruma decided to provide them a Pucca home for the needy, provide educational aid (counselling sessions, special classes), water tank for continuous water supply, and aid for self-employment.
Oruma conceived a Model Village and coined the name '"Puthuvasantham"( meaning New Spring).
Detailed Project Report of Puthuvasantham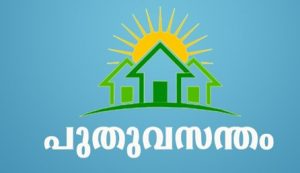 What has changed after Oruma New Springs
House construction at Thiruvilangadu, Harishchandrapuram panchayath is in progress in a phased manner wherein the needy people are identified and provided with houses. As on date 10 houses have been handed over and work on 5 more houses are progressing in construction phase. These houses have each built in toilets under the Swatch Bharat scheme. A community water tank has been built for safe drinking water.
An E Seva office has been set up at Harishchandrapuram for the benefit of the students in the village. The students can now learn English language at these E Seva office. Computer based facilities have been provided with internet to apply for various e-certificates and scholarship under various Government schemes.
Oruma's intention is to totally uplift the community economically and educationally. Oruma believes empowerment is something that comes from within a community, and cannot be achieved solely by the actions of some outsiders. And development agencies, like Oruma, play an important role in promoting societal change that supports empowerment. This creates opportunities for the marginalised, through engagement with government on key public policy areas and provide support to civil society.
Oruma Friendly Forum
Oruma realises and respects everyone's religious and ideological thoughts. To provide a healthy constructive platform for individuals to come closer and discover each other, Oruma provides Oruma Friendly forum. Through this forum, Oruma opens up avenues for discussing socially relevant topics.