Oruma's aim is to work towards social harmony and community empowerment. Programs like Oruma ''Friendly Forum'' and 'Oruma ''New Springs'' seeks to work with local community and society at large to bring social harmony through dialog and poverty alleviation.
Oruma New Springs
Empowerment enables poor and marginalised people to break out of traps of poverty, inequality and play greater political, economic and cultural roles in society. Oruma identified in two colonies in Thiruvilangadu, Harishchandrapuram panchayath in Thiruvallur district that were severely affected during the 2015 floods. Following requests from the community people, Oruma engaged with this community who are predominantly engaged as knife sharpeners seeking work in Chennai city and other towns.  Oruma volunteers conducted survey on their economic and education background of around 310 families in this community.
It was found that they were lacking in two vital development parameter- Housing and Education. Hence, Oruma decided to provide them a Pucca home for the needy, provide educational aid (counselling sessions, special classes), water tank for continuous water supply, and aid for self-employment.
Oruma conceived a Model Village and coined the name '"Puthuvasantham"( meaning New Spring).
Detailed Project Report of Puthuvasantham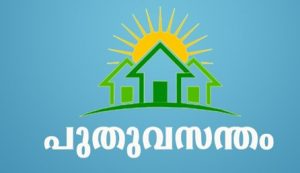 What has changed after Oruma New Springs
PUTHUVASANTHAM
COMMUNITY EMPOWERMENT PROJECT
We started the journey of this village empowernment in 2015.
We have now successfully completed the first phase of the project, related to creating basic infrastructure for development.
The second phase shall be completely focused on educational upliftment of the villagers.
The Micro Finance system that was introduced in 2018 has provided about 22 Lakh rupees to the villagers as loans.
SERVICES FOR HOUSING
25 HOUSES
40 TOILETS
TWO WATER PROJECTS INCLUDING WATER TANKS
ONE WATER PROJECT INCLUDING A HAND PUMP.
SERVICES FOR SELF EMPLOYMENT
DISTRIBUTED 30 KNIVES SHARPENING MACHINES
DISTRIBUTED TWO TAILORING MACHINES
DISTRIBUTED ONE FLOUR MILL
SERVICES FOR EDUCATION

THREE AWARENESS PROGRAMS ON EDUCATION
SPOKEN ENGLISH CLASSES
TUTION CENTRE
THREE STUDENTS COMPLETED THIER B.A. AND LANDED JOBS.
TWO STUDENTS COMPLETED B.COM AND LANDED JOBS.
THREE STUDENTS COMPLETED EEE DIPLOMA & LANDED JOBS.
THREE STUDENTS ARE CURRENTLY PURSUING B.COM
ONE STUDENT IS CURRENTLY PURSUING BCA
ONE STUDENT IS CURRENTLY PURSUING B.SC DIALISIS
TWO STUDENTS ARE CURRENTLY PURSUING B.SC
EDUCATIONAL SERVICES ARE BEING CONTINUED.
Oruma Friendly Forum
Oruma realises and respects everyone's religious and ideological thoughts. To provide a healthy constructive platform for individuals to come closer and discover each other, Oruma provides Oruma Friendly forum. Through this forum, Oruma opens up avenues for discussing socially relevant topics.